Veteran Friendly & Passionate
When it comes to recruiting veterans, your brand must demonstrate that you are no just veteran-friendly, but veteran-passionate.

Veteran Recruiting will showcase your company to our vast network of high-impact veteran talent. Give us just 30-days, and watch your company brand increase, and the veteran talent pour in.
30 Day Challenge
We will meet with you to gain an understanding of your company culture and why you are a great fit for veterans
We will develop a 30-day plan to connect your recruiters with veterans that are a great match for your open positions
We will utilize our Veteran Recruitment Center to host an online career fair just for your company
We will add your jobs to our website each day www.veteranrecruiting.com/jobs
We will send an email campaign to veterans that are matched to your open positions letting them know who you are, what you have to offer, locations, and why you are a perfect fit for their next career choice
Start your 30 Day Challenge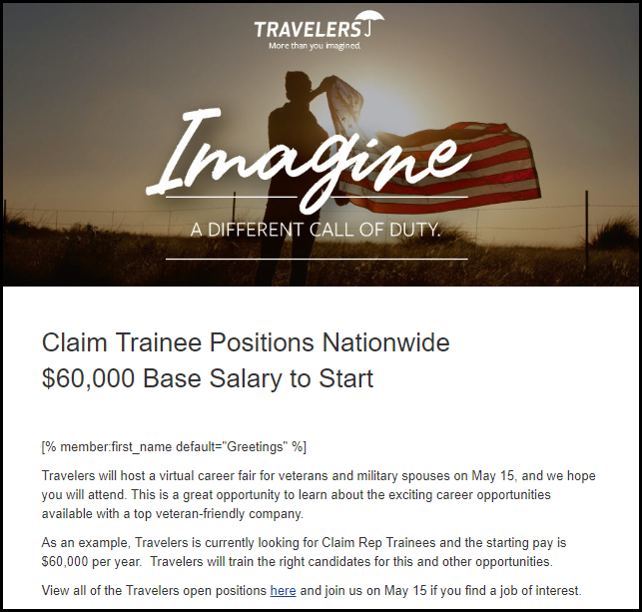 Email Marketing
Veteran Recruiting (VR) has a massive network of veterans that have attended our recruiting events, and we will use this network and other means to promote your company. The first thing we will do is add all of your jobs to our website www.veteranrecruiting.com/jobs

We will then match your jobs to our veteran network based on location, jobs, locations, and more. The Veteran Recruitment algorithm will then determine who in our network might be a fit for your company based on what positions you have available.

Next, we will work with you to craft an email that we will send to our network to announce you as a new VR partner. The email will include a link to all of your jobs on our website, and announce the date of your upcoming virtual career fair.

We will send you a report of how many veterans received the email, how many opened it, and how many clicked on the link to your jobs.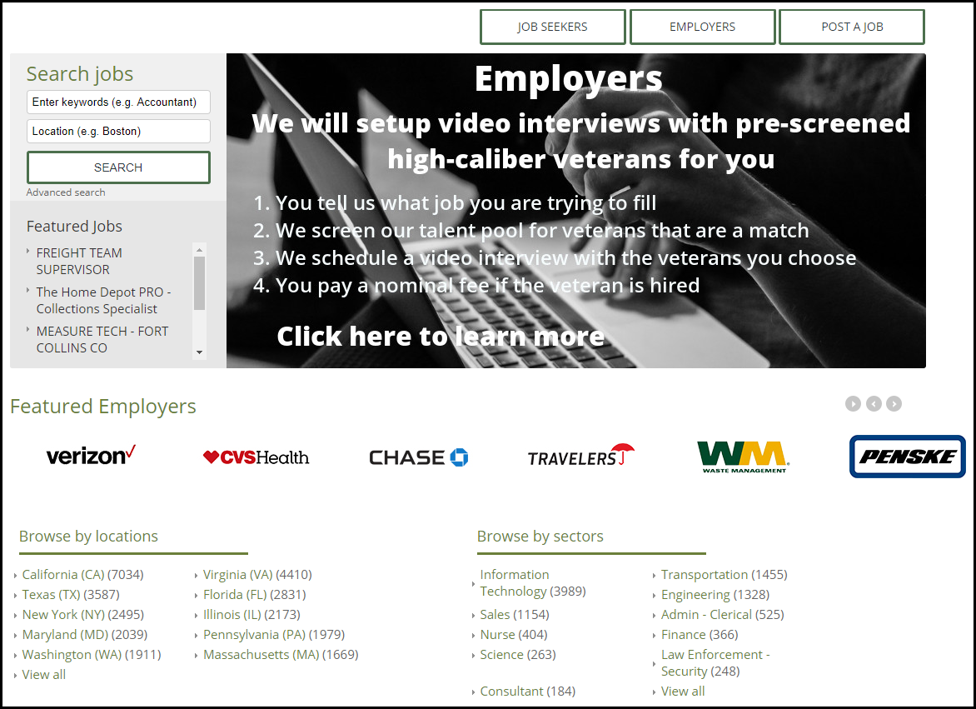 Job Scrape
Veteran Recruiting will scrape your career site for 30-days and place all of your jobs on our site each day www.veteranrecruiting.com/jobs

Veterans set up profiles on the site and create job alerts. They are then emailed when jobs are added that match their search criteria.
Virtual Career Fair
Since 2009, more than 4-million veterans have attended the virtual career fairs hosted by Veteran Recruiting. Each year, more than 250,000 veterans participate in our online recruiting events.

Veteran Recruiting will host a virtual career fair for your company only during your 30-day showcase.

You will tell us the scope of your event (do you want to promote all of your open positions, or perhaps just certain jobs or locations) We will take it from there and promote your event accordingly.

Veteran Recruiting will design your booth, train your recruiters, and handle all of the marketing of your event. Your recruiters will simply attend from the comfort of their office. You will receive a detailed attendee report after your career fair (including resumes)