Connecting High-Impact Veterans With Industry Leading Companies
Virtual Career Fair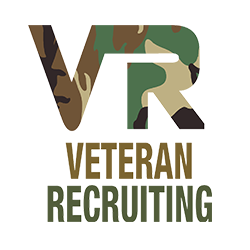 January 29, 2020
1-3 PM EST
Chat live with Recruiters
Register or Login
A Unique Approach to Recruiting Veterans
Veteran Recruiting (VR) is much more than a staffing firm. When you partner with VR, you get a team of veteran recruiters that complement and enhance your team's efforts to recruit, hire, and retain veteran talent. We utilize technology to attract large groups of veterans in our hiring events and use that network to find the ideal veteran for our clients' vacancies.
Virtual Career Fairs
Veteran Recruiting Virtual Career Fairs make it easy to connect with recruiters from leading companies. You can access the exhibit hall anytime; you can research companies, view/apply for jobs, and chat with recruiters when they are online. If you enter the exhibit hall when a virtual career fair is not taking place, recruiters are sent an email with your resume and profile, and you can also email them directly from within their booth.
Job Seekers
Employers
Single Company Career Fairs
When you know what job you are seeking, or the companies you would want to work for, the VR Single Company Career Fairs are well worth attending. Instead of going from booth to booth, you will connect with a single company in their career fair. Before each event, you will receive all information on the company, jobs available, locations, requirements, and more. You can then decide before attending if this is a company of interest to you. The Single Company Career Fairs can be held at a client site, hotel, or even online.

If you are an employer seeking to hire veterans, but do not want to compete in a multi-company setting, let VR put together a custom tailored recruiting event for you.
Job Seekers
Employers
Hiring Fairs
Hiring Fairs are designed to connect hiring managers with veterans that have been hand-selected and matched with specific jobs and companies. Hiring Fairs are invite only events, and all candidates are personally interviewed prior to receiving an invite. Hiring managers meet with veterans about specific roles the company has previously asked us to source candidates for. Hiring Fairs are hosted at offsite locations, or can be conducted at a company's office. Hiring Fairs are a great way to interview with multiple companies in one-day, but we also host them for individual companies based on need.

To be considered for upcoming Hiring Fairs, you simply need to upload your resume to the database. If you are an employer interested in attending one of our Hiring Fairs, we are happy to connect.
Job Seekers
Employers
Job Seekers
Chat with recruiters from leading companies in the virtual career fairs, or send them your resume if they are offline.
Register today for instant access to the Veteran Recruitment Center.
Learn More
Employers
Veteran Recruiting is much more than a staffing firm. When you partner with VR, you get an entire veteran recruitment team that has a laser-focus to complement your team's efforts to recruit, hire, and retain top veteran talent.
Learn More