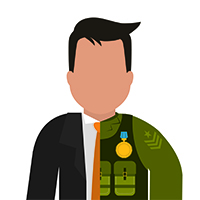 What is a Veteran Recruiting Open House
Customized recruiting events to attract high-caliber veteran talent to your company, and tailored for your open roles and company-culture.

We combine our world-class virtual suite of recruiting services and combine them with in-person recruiting events for each of our clients. Essentially, we set up career fairs just for your company both online and in-person

Request Demo
Benefits

The Veteran Recruiting Open House combines a virtual and in-person component to connect veterans with your recruiters. Because most of the work is done virtually, we greatly reduce the amount of time, money, and resources typically required for you to recruit veterans for your various locations.

On average, our clients see a cost per hire reduction of nearly 60%!

What better way to demonstrate your commitment, appreciation, and respect for veterans than to bring them in to meet with your hiring managers. Your employment brand plays a key role in attracting the best and brightest, and hosting a Veteran Recruiting Open House will surely help you stand out from your competition.

Receive detailed reports and analysis of the veterans who register, attend, and apply for your open roles. With this data, your recruiters can easily track each veteran through the hiring process.